All about the Bored Ape NFT, BAYC.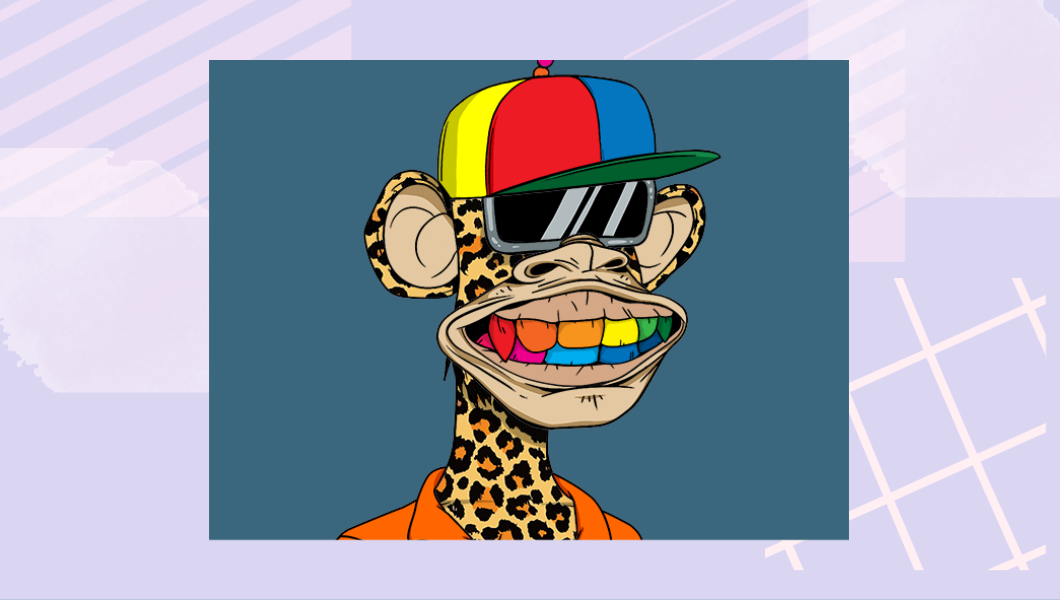 An NFT is a unique digital token on the blockchain and is typically an image or something similar. The process of creating the very first entry for an NFT on the blockchain is referred to as minting the NFT.
BAYC, short for Bored Ape Yacht Club, is an NFT collection of 10,000 apes, each of which is stored as an ERC-571 token on the Ethereum blockchain. It was first released in April 2021 and quickly became a stellar success. The original vision was to create an exclusive club for folks who made it big in the crypto world.
BAYC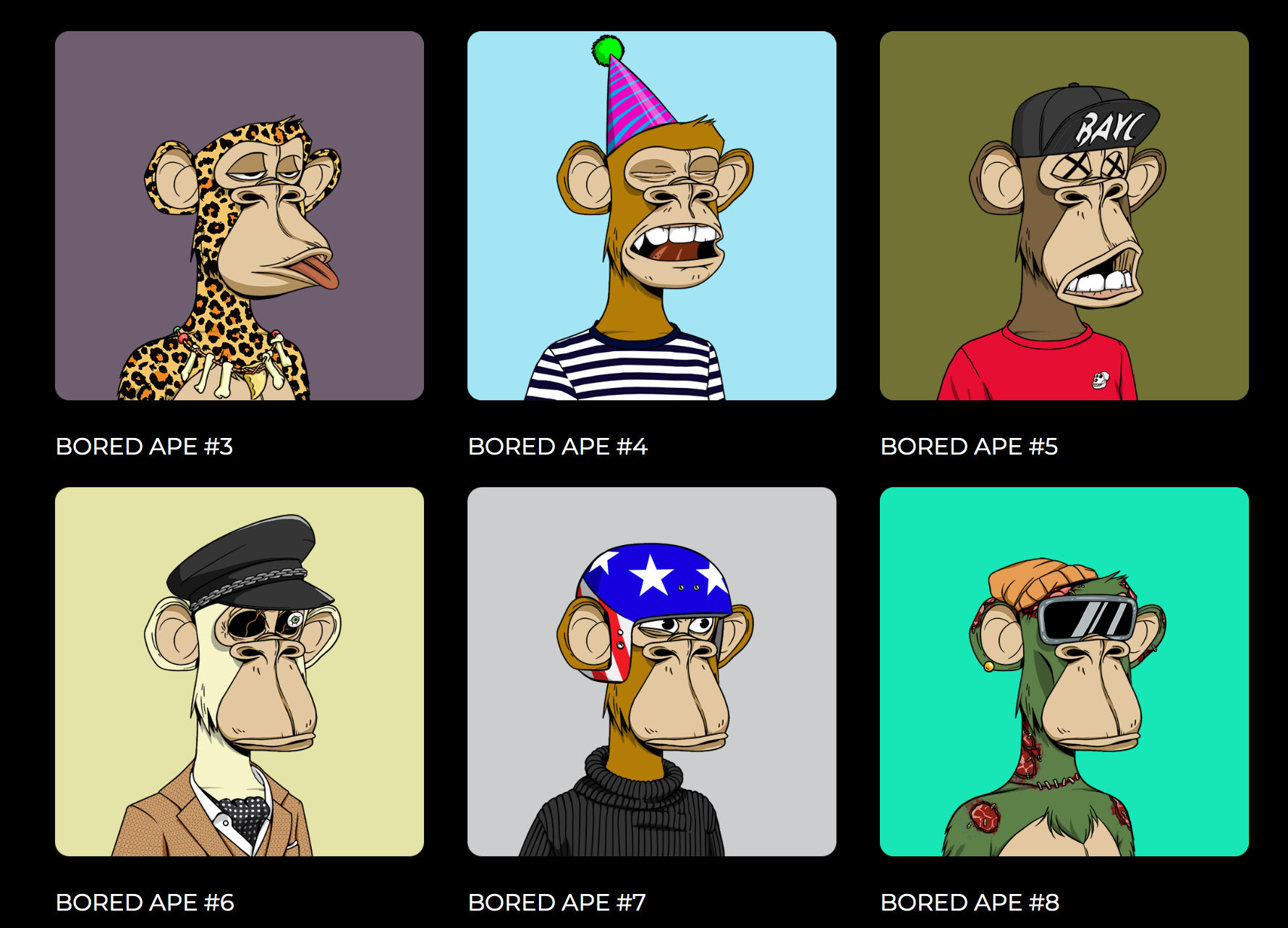 The initial sale in April 2021 priced each ape at 0.08 ETH, or about $200, and the BAYC twitter handle tweeted on May 1st 2021 that all the apes were sold out. The apes were an instant hit and were bought by celebrities and influencers. Following a week long pre-sale period, the entire collection sold out in 12 hours.
Traits
The original 10,000 apes were programmatically generated and each of them had a set of traits. A trait is a visual feature such as a hat or even the background color of the particular ape. It was designed such that no two apes will have all the same traits, although each of them may share a few traits with a few other apes.
Further, the traits are not evenly distributed among the apes and some traits are rarer than others.
The following are some examples of the traits of the apes:
Background, Clothes, Earring, Eyes, Fur, Hat, Mouth
The following are some of the rarest traits of the apes:
Bored dagger, Cyborg eye, Cross earring, Dmt fur
BAYC sales data from Opensea - prices in Ethereum

Kennel Club - BAKC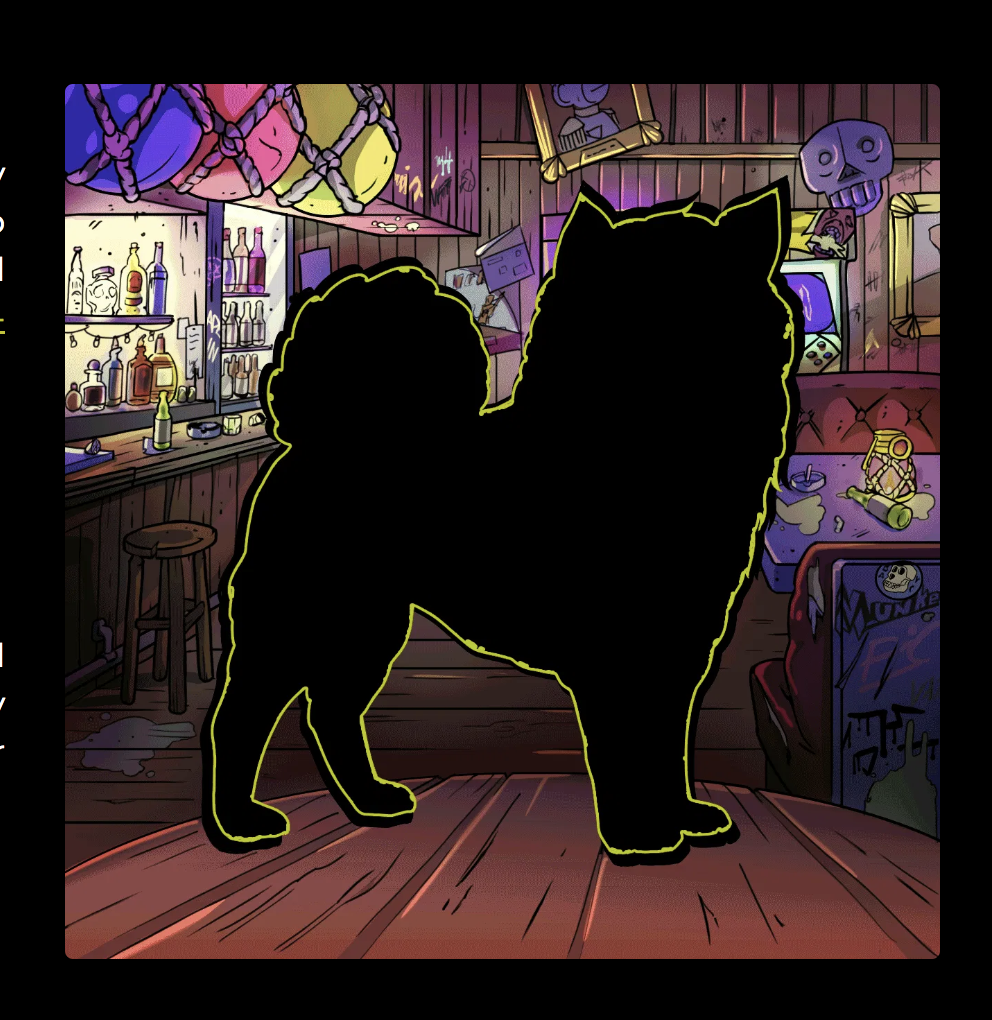 Following the successful launch and sale of the 10,000 bored ape NFTs, Yuga Labs, the creator of BAYC launched a free collection of NFTs as a perk to the holders of the BAYC NFTs. The free collection was named Bored Ape Kennel Club and each NFT in the collection was a canine with a set of unique traits. Each unique pup was programmatically generated from a set of over 170 possible traits and is stored as an ERC-721 token on the Ethereum blockchain.
The BAKC collection was launched in June 2021. BAYC holders were given one week's time to claim their free canine NFT as a companion to their ape NFT. The pups were randomly and anonymously assigned so that some holders received the more rarer pups in a lottery style assignment.
A total of 9.6K pups were claimed within the specific week and are since being traded at Opensea as part of the BAKC collection.
BAKC sales data from Opensea - prices in Ethereum
Mutant Ape Yacht Club - MAYC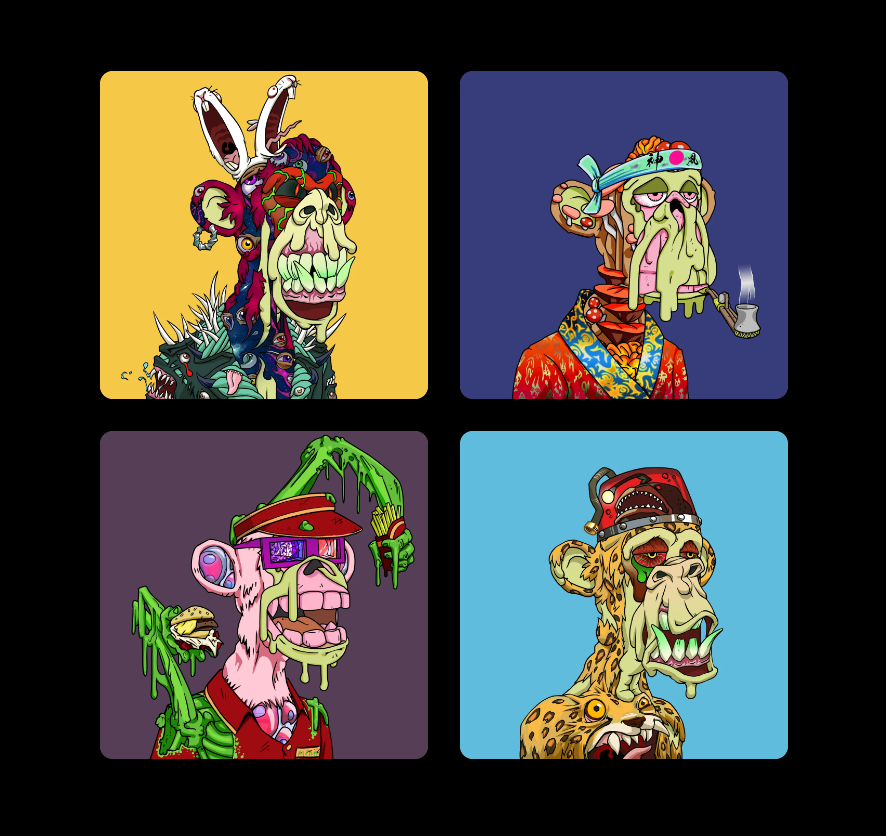 The Mutant ape yacht club is a collection of 20,000 mutant ape NFTs that were introduced by the creators of BAYC. The MAYC was created primarily to offer a lower tier membership with a less expensive option for folks looking to get entry into the prestigious club.
MAYC can be created/obtained in 2 ways:
10,000 MAYC were made available for existing BAYC holders. A BAYC holder can mint an MAYC by injecting a mutant serum into their BAYC ape. Three tiers of mutant serum vials: M1, M2, and Mega Mutant (M3) were dropped randomly to existing BAYC wallets. Holders can inject a mutant, only once, into an ape to get a mutant ape.
10,000 MAYC were made available to mint via a public dutch auction. The MAYC were priced lower than the original BAYC and hence the holders were given a lower tier membership with lesser perks. The initial price was set at 3 ETH.
MAYC sales data from Opensea - prices in Ethereum

Celebrity BAYC Owners
True to its original vision of becoming an exclusive club, the BAYC attracted celebrities not only from the cryto world, but also those from sports and entertainment. Celebrity holders include Tom Brady, Mark Cuban, Stephen Curry, Madonna, Eminem, Jimmy Fallon, Paris Hilton and Gwyneth Paltrow.
Bored Ape IP
During the initial launch, each of the bored ape NFT holders was given the IP rights for their respective token. Since each token was unique, the owner was free to create a brand or other commercial interests around their token. This was the first time such rights were granted to an NFT holder.
A lot of interesting possibilities arise in terms of how each holder can use and leverage their ape. Each ape is identified by a number within the collection and has a unique image that is combination of traits. A holder in California has opened a restaurant named after his ape.
Bored & Hungry Restaurant
BAYC in Hollywood
Justin Timberland has launched a production company, Ape-in productions to promote the apes in the Metaverse.
A hollywood agency, CAA has signed on an ape to do commercials and other TV projects.
Several hollywood stars including Justin Bieber, Snoop Dogg and Travis Barker are proud members of the BAYC.
BAYC Liquidity Pool
In addition to gaining membership benefits and branding rights for the apes, holders can also stake their apes in specific liquidity pools and earn through staking fees and/or arbitrage opportunities.
The following is one such option to stake the BAYC in Uniswap:
Stake your NFT
Receive tokens in exchange for the NFT
Trade the tokens in Uniswap - you can swap them for a different token.
Stake the tokens and receive $MUSE
Use the $MUSE to participate in the governance of the nft20.io protocol.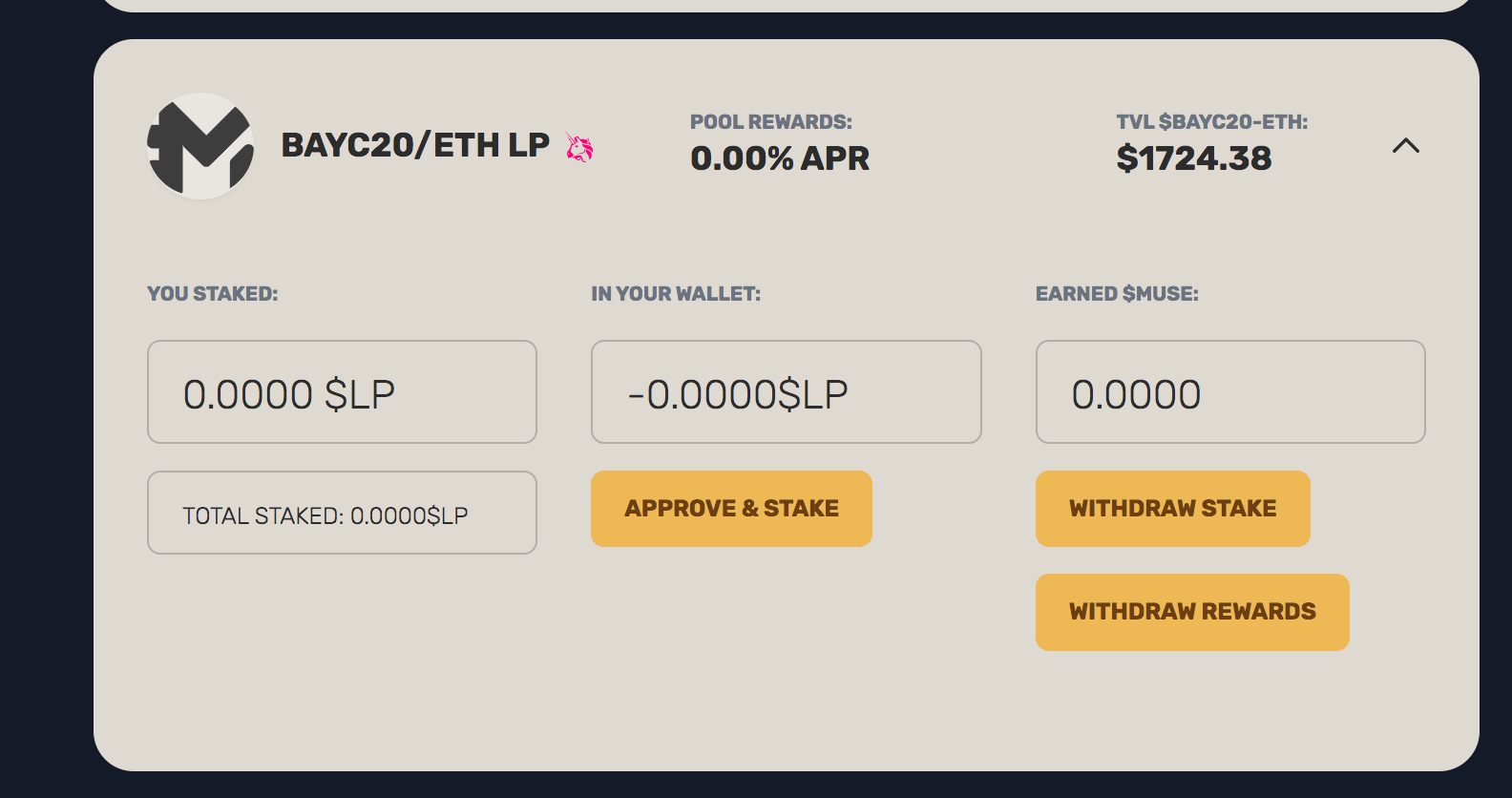 The $Ape Coin
In 2022, Yuga labs developed the $Ape coin, an ERC-20 enabled governance and utility token to serve as the native token of the ape ecosystem. The total supply has been fixed at 1 billion coins.
BAYC, BAKC and MAYC holders were allocated $Ape tokens in proportion to their respective ape holdings: BAYC - 10,094 tokens, MAYC - 2,042, BAYC+BAKC - 10,950, MAYC+BAKC - 2898
Conclusion
In conclusion, BAYC has grown to become a billion dollar economy and is constantly growing and evolving. As the NFT ecosystem matures, you can expect to see additional elements in the BAYC economy. As with any crypto and NFT project, the BAYC carries a risk and any investor should carefully assess and understand the risks before entering the ecosystem.