Cryptocurrencies
Everything you need to know about the Paypal Stablecoin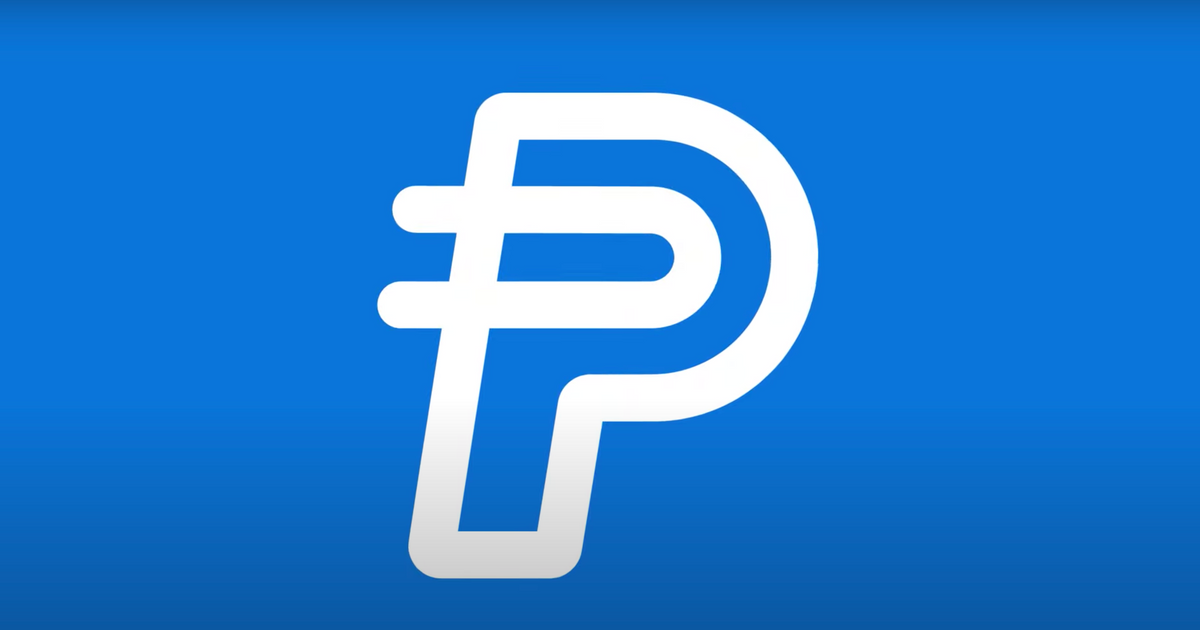 PayPal's stablecoin is called PYUSD. It's a type of cryptocurrency that's designed to have a steady value over time relative to a reference asset, like the U.S. dollar.
Here are some details about PayPal's stablecoin:
It's issued as an ERC-20 token.
It's redeemable 1:1 for U.S. dollars.
It's 100% backed by U.S. dollar deposits, short-term U.S Treasuries, and similar cash equivalents.
It's issued by Paxos Trust Company, a financial tech company that specializes in blockchain and offers crypto brokerage services.
It's available on select exchanges including Crypto.com, Bitstamp, Coinbase, and Kraken.
Stablecoins like PayPal USD are typically not looked at as investment vehicles since they are pegged 1-1 to the underlying fiat currency.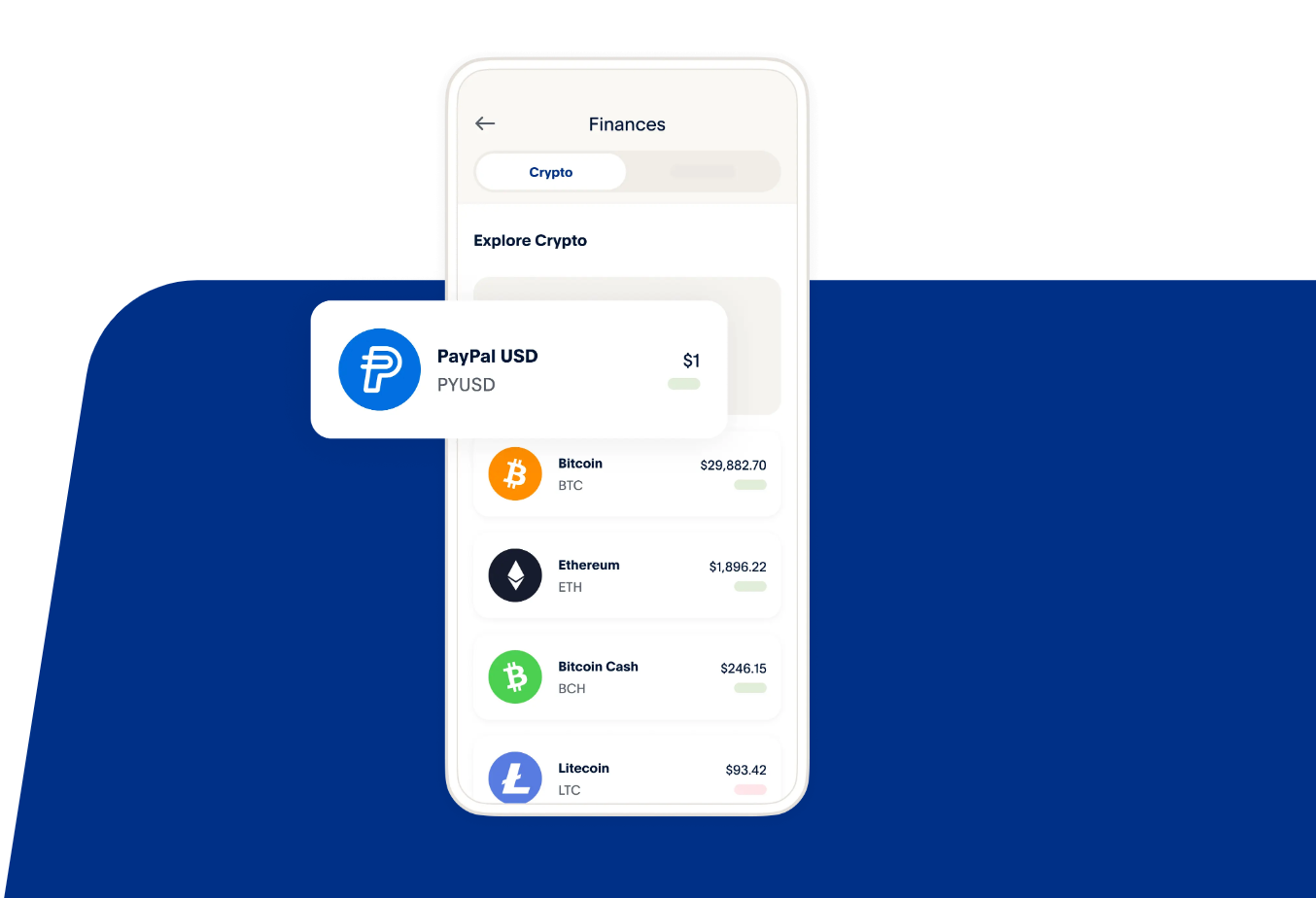 How Does the PayPal Stablecoin Work?
The Paypal stablecoin is a cryptocurrency token that resides on the Ethereum blockchain. It can be stored either in the Paypal wallet or in an Ethereum based wallet that supports the PyUSD token.
Reserve Backing
The Paypal stablecoin is pegged 1-1 to the US dollar and so is considered stable and protected from the harsh volatilities of cryptocurrencies.
In order to maintain the peg, it is backed 1-1 by dollar deposits, US treasuries, and cash equivalents.
Issue
The stablecoin is issued by the Paxos Trust Company.
Purpose
Stablecoins are often the bridge between fiat and cryptocurrencies. Since a stablecoin is a cryptocurrency, it can be stored in crypto wallets and can be used to purchase other cryptocurrencies without needing to convert or on-ramp from fiat.
What does this mean?
If you want to purchase cryptocurrency, you can pay for it with
Fiat
ETH for ERC-20 tokens
Exchanging a different cryptocurrency
Stablecoins
Stablecoins
Backed by fiat, so they retain value
Reside on-chain, so it's easier for crypto traders and investors to utilize them in transactions.
Stablecoins are also a great gateway to introduce new, skeptical users into the world of blockchain. The users can enjoy the benefits and utilities of blockchain technology without the risk of crypto volatility.
What can you do with the Paypal Stablecoin?
The stablecoin PYUSD seamlessly integrates with PayPal's existing suite of services. This means users can buy, hold, and spend their stablecoins directly from their PayPal wallets.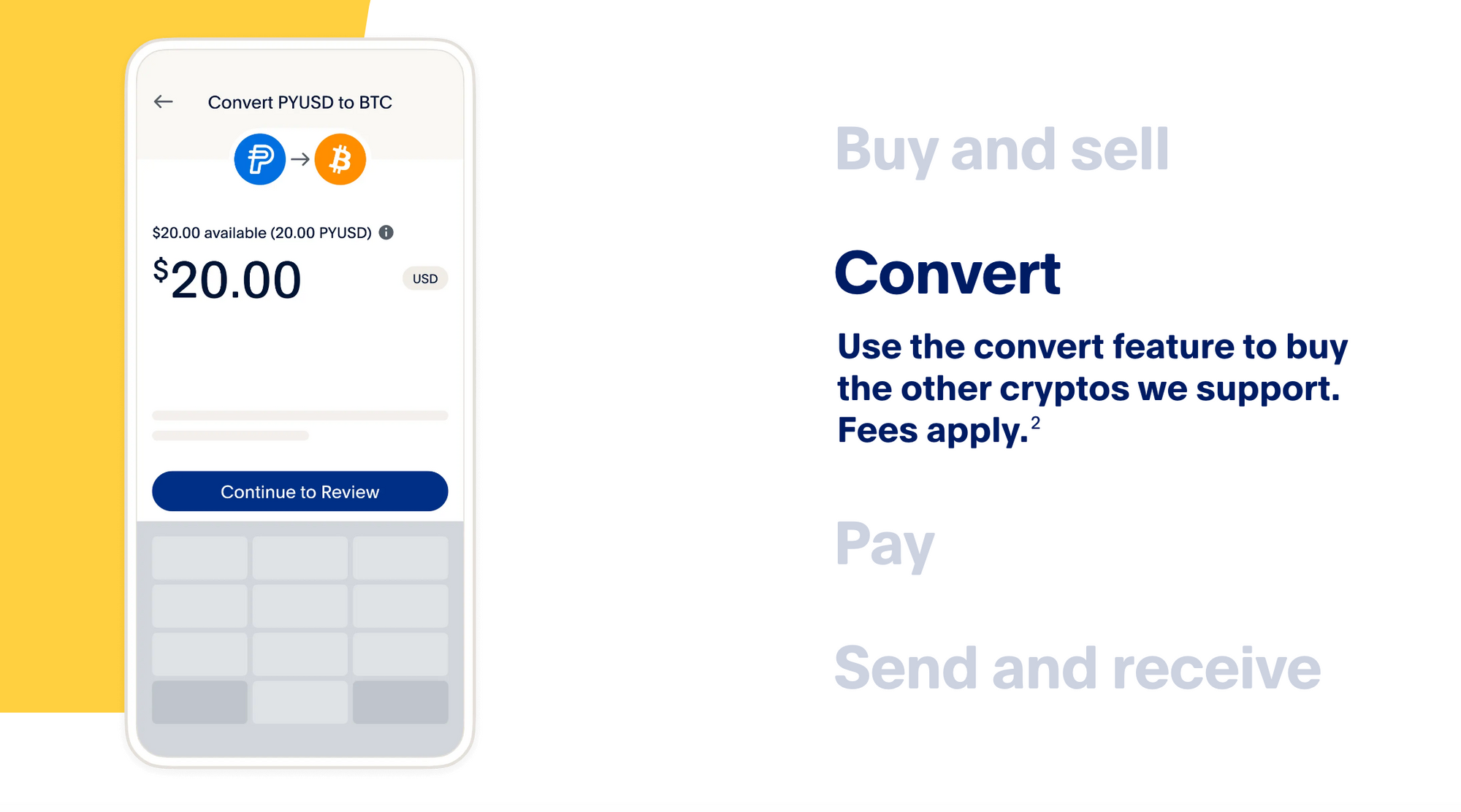 Buy and Sell
Users can buy PYUSD using fiat currency from their paypal accounts. The PYUSD will be stored in their paypal cryptoccurrency wallet. Users can also sell PYUSD from their crypto wallet in return for fiat currency that will be added to their paypal fiat account balance.
Convert PayPal's stablecoin can be converted or exchanged for a diffferent cryptocurrency. 1 PyUSD is valued at 1 USD and so it can be used directly to buy cryptocurrency of equal value without convering to fiat.
Pay
PayPal is actively working on facilitating the acceptance of its stablecoin at various retailers. This move has the potential to accelerate the adoption of digital payments in the real world. Users ccan pay for goods and services with PYUSD instead of with fiat currency at merchants that accept the Paypal stablecoin for payments.
Send and Receive
One of the biggest advantages of crypotocurrencies is the ability to make peer-to-peer transfers via the blockchain. PYUSD can be be sent directly from one wallet to another without the need for an intermediary like a bank or paypal to settle and complete the transaction.
Benefits of the PayPal Stablecoin
PayPal's stablecoin, PYUSD, has several benefits:
Broad access: PYUSD can provide broad access to the financial system.
Fast money movement: PYUSD can enable fast and efficient money movement.
Programmable: PYUSD can be built into public blockchains.
Real-time payments: PYUSD can enable payments to be settled in real-time.
Access to other services: PYUSD can be moved to compatible third-party wallets to access other web3 applications and services.
Other benefits of PYUSD include:
Transferring PYUSD between PayPal and compatible external wallets
Making peer-to-peer payments
Funding purchases by selecting PayPal USD at checkout
Converting PayPal-supported cryptocurrencies to and from PayPal USD
Using it to convert any of PayPal's supported cryptocurrencies
Being developed on the Ethereum blockchain
Mainstream Adoption:
PayPal's vast user base, combined with the integration of stablecoins, has the potential to accelerate the mainstream adoption of digital currencies. Users who may not have been exposed to cryptocurrencies before will now have a user-friendly gateway into the world of blockchain and cryptocurrencies.
Financial Inclusion:
By extending access to digital financial services, PayPal's stablecoin can contribute to financial inclusion, reaching populations that have been historically excluded from the traditional financial system.
Traditional Finance Disruption:
As digital payments and stablecoins become more widespread, traditional financial institutions may face increased competition and pressure to adapt to changing consumer preferences.
Global Remittances:
One of the significant advantages of digital currencies is their ability to facilitate cross-border transactions. PayPal's stablecoin aims to streamline international money transfers, potentially reducing fees and transaction times.
DeFi Integration:
The integration of PayPal's stablecoin with decentralized finance (DeFi) applications opens up new opportunities
In summary, Paypal's stablecoin is an exciting innovation with several possibilities. As with any financial product, you should DYOR before you make a purchase. We will continue to watch this exciting space!